Our machines are equipped with conversational programming which means minimal set-up time and more competitive pricing on short and long production runs.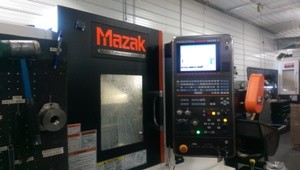 CNC Machines and Equipment
Mazak QTN-250MSY Turning Center with Live Tooling, Sub-Spindle and Bar Feeder
Mazak QTN-200 MSY CNC Multi-Task Tuning Center with sub-spindle and y-axis
Flow M4-2513b Integrated Dynamic XD Waterjet System
Mazak HCN-5000 Horizontal CNC Machining Center
Mazak PFH-4800 Horizontal CNC Machining Center
Mazak V414-32 Machining Center
Mazak Quick Turn 8 Turning Center
Bridgeport Mills
Engine Lathes
Glass Bead Blaster
Amada HA250W Automatic Production Bandsaw
Vibratory Debur
Hexagon Global Advantage CMM equipped with an advanced multi-sensor controller
Gagemaster Optical Comparator and Complete Inspection Area
Material Abilities
Stainless Steel
Brass
Plastics
Castings
Tool Steel
Mild Steel
Alloy Steel
Cast Iron
Aluminum
Copper
Nylon/Delrin
Teflon
Bronze
Waterjet Material Abilities
All Metals
Aluminum
Brass
Foam
Marble
Laminates
Gasket Material
Wood
Granite
Ceramics
Glass
Rubber Parts
This list does not include everything.  If you do not see a material listed that you would like cut, please call.  The waterjet can cut almost anything.